365 Room Escape: Best Online Escape Game
Escape games are a niche genre that focuses heavily on the puzzle elements. If you're really into escape rooms, or always wanted to try them out, make sure to play thematic computer games on 365 Room Escape website! That's a perfect place for everyone who can appreciate a good set of riddles that really puts the mind to work.
What Is An Escape Game
Practically any game created to recreate escaping / breaking out experience is point-and-click. Not much action is needed if you're just exploring the environment, collecting important objects and hints, trying to understand what to do next. You also usually don't have time limit, so there's no rush. Investigate as much as you want, just remember to take notes as some details may become of importance throughout the game.
Most of escape games share similar elements:
Something is locked. It may be the door, or a set of boxes, or just a singular safe. You may be introduced to it in the beginning or near the end of the game, but the moment you see this object it becomes clear that is the main goal.
Lots of puzzles are involved. Not all point-and-clicks are the same. Some are pretty linear, as you can do one, maybe two things at a time before a new area unlocks or a new important object is introduced. Also, you can always ask the surrounding characters what to do next, and they'll give you hints. In an escape game, you stay alone throughout the most experience. All the puzzles are available from the beginning. It's up to you to find the correct solution to them, there are no guidelines at all.
The story isn't that important. Best escape games offer the players interesting lore, but there still won't be dialogues or shocking plot twists. The main experience is the process of dissolving the puzzles, it's not the other way around.
365 Room Escape provides one of the fullest collections of flash escape quests. If you're new to the genre or have done it to the core, we recommend to try out the game that changed the way people see flash point-and-click escape adventures.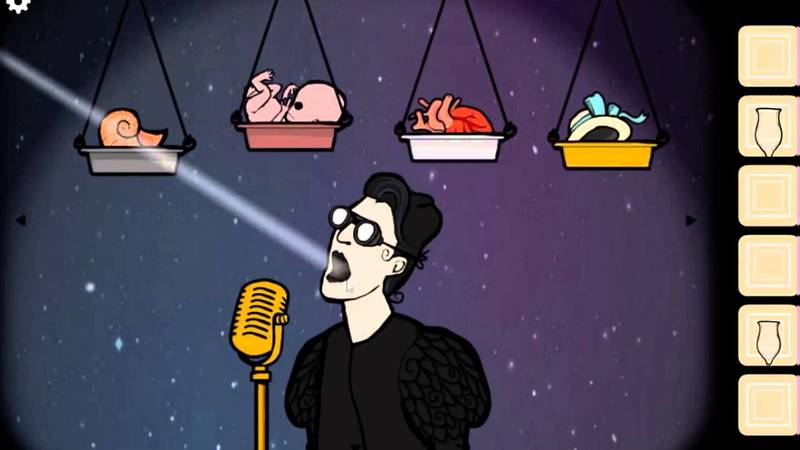 Cube Escape:  Theatre
Well, basically, Cube Escape is a whole bunch of games with nice graphics and original layouts. You should try out all of them, as they're connected in a special way, and the main storyline can be discovered only after playing them all.
Theatre is interesting in a way that it breaks every known rule of the genre, and still remains a solid escape room experience. In order to make it to the end, you are to complete 6 performances, and of course, the actors are involved. However, the place still feels oddly empty and abandoned. But why is that so? Well… you'll need to help the performances first, if you want to figure it out. 
If you have already passed all online escape games, then we are waiting for you in Quest Factor.