Castle escape room in seattle
Escape rooms are not just set-ups full of clever puzzles, hints, and tricks. If carefully done, an escape room quest can become a short journey; an actual cinematographic adventure with a proper beginning and an unexpected ending. For example, you can become a spaceman and travel throughout the universe searching for the lost ship. Or maybe you are a superhero, and it is up to you to stop the evil genius from destroying the entire city?
If you are not into flashy adventures, there are still many excellent opportunities for your team. One of the most exciting journeys of them all is the Castle Escape Room. It combines historically perfect decorations with fantasy puzzles. To make the story shine, we added old legends and tales to the mix – and opened the doors to everyone who enjoys a good Knight story!
Escape the Castle in 60 Minutes or Less
Do you know the tale of King Arthur and the Knights of the Round Table? The legend says that the kingdom of England lost its glory due to many unfortunate circumstances. But one day, the King will return, and Great Britain will come to its best virtues once again.
If you solve all the escape room riddles, maybe you'll be able to bring the old King back! Of course, your primary concern still should be getting out of the castle, as your whole team is trapped, and you only have a single hour to break free. The Castle Escape room has several endings, and it is entirely up to you how will your story finish.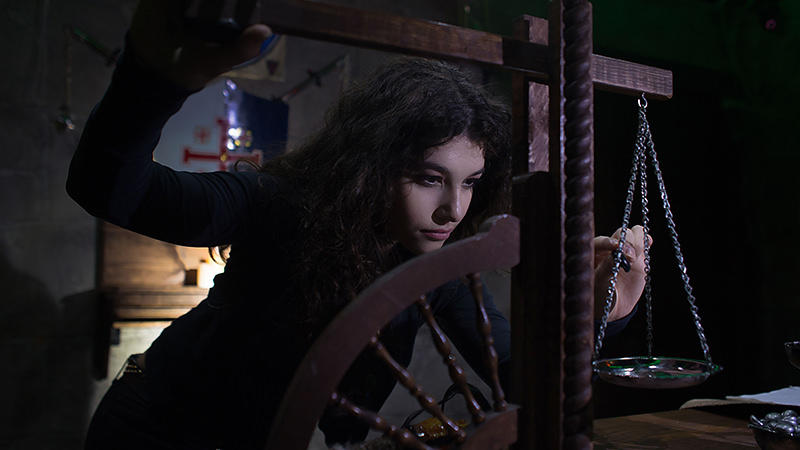 Escaping the castle that is haunted by the ghosts of the past is not an easy task. For those who visit Quest Factor escape rooms for the first times we've prepared a few guidelines:
Think as a team, act as a team. You'll learn a lot about knights, but the most important thing you should consider is how loyal they were to their King and each other. Act the same, and you'll solve all the puzzles in no time!
Let your intuition take the lead. Not all the puzzles are 100% logical: remember, you'll have to deal with Merlin and his magic. If you want to succeed, let your mind go and think outside of the box.
Don't give up! If you feel cornered, don't think the game is lost. Try a bit harder, and if you're stuck for 5 minutes or more, only ask for a hint. We'll be happy to help – without spoiling the whole solution, of course.
Are you ready to enter the Castle and discover all its secrets? Or maybe you want to visit a specific other escape room first? Feel free to share your expectations with other guests and us at the comment section!