Christmas Escape Rooms are Great for Attracting Public
It's quite understandable that there aren't so many Christmas-themed puzzle rooms. After all, Xmas comes only once a year. It may not think seem a very efficient idea to design a special adventure just for that small time gap.
But if one looks broader, it becomes clear that special escape rooms about Santa, Christmas tree, presents and elves have lots of potential to them. While they won't be very popular in summer, there'll still be some people who'd like to try them out. And near the Christmas Eve these quests will become the most desirable, as families, colleagues and students will search for high-quality thematic entertainment.
How To Create A Christmas Themed Escape Quest
We believe that Christmas escape games are going to develop into a recognizable sub-genre with its own rules and features, just like those holiday specials of the popular TV shows. But for now, the territory is not fully explored.
Most of the cities in USA do not offer any kind of Christmas room escape experience. This means there are no canons, and you've got no one to look up to but yourself. But everybody got to start somewhere, right? So try to include something nice and recognizable in your holiday quest. Think about:
He's an essential character of modern folklore. This kind-hearted guy doesn't have anything to do with religion, and he really loves kids, so no one will be disappointed if he appears even in the most ridiculous scenario. With Santa, you can make it spooky, or magical, or mysterious. Also, it's a good idea to make him the goal of the quest. Saving Santa and getting the presents seems like a really great way to finish a Christmas family adventure!
Christmas tree. That's pretty basic, isn't it? But don't use it just to create the atmosphere. Instead, make it an integral part in a line of puzzles. Something important might be hidden beneath the brushes, or the star on top can hold certain secrets. Even one puzzle is enough: if you won't include any, the guests will get distracted by trying to get at least some secrets out of the poor tree!
Artificial snow. It's cheap, you can make it yourself, and there's honestly no reason to reject this idea. While it's up to you how to connect it with the riddles, make sure that there'll be snow at some point. It creates the mood, and children really love it.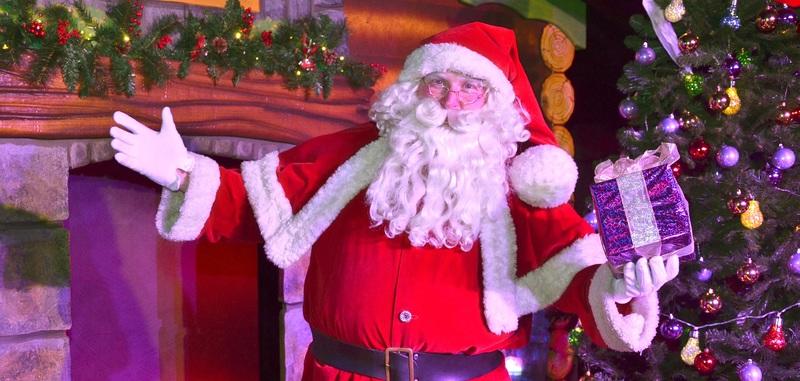 You can also use other characters like Grinch or Santa's elves to make the story truly shine. Even if there are some common elements to your adventure, it'll pass just fine. Christmas is all about traditions, isn't it? 
The answer to the question «Where to go for Christmas?» you can find here.