Da Vinci Secret Escape Room
Have you ever wanted to be the first person to make a significant historical discovery? Well, the scientific community still argues that the legacy of Leonardo Da Vinci is not fully retrieved. Impossible inventions, innovative blueprints and paintings even more mysterious than the famous Mona Lisa: who knows what treasures have been lost to the wheels of time?
But what if you could enter Da Vinci's secret escape room, the place where he went when he wanted to remain unseen? Of course, the hidden workshop won't give you all its secrets from the first try. But if you had at least an hour to spare, wouldn't you be able to crack all the secrets and get right to the lost cultural artifacts?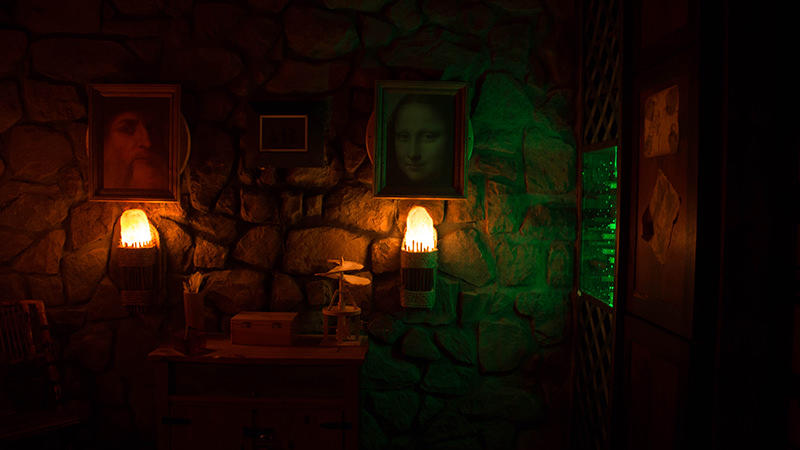 Enter the Challenge of the Great Da Vinci
If you decide to penetrate the hidden workshop, please keep in mind that outsmarting a genius is by no means an easy task. To perform the Da Vinci room escape, you'll need to think just like this man. Who, as you might remember, was famous for his talent in many areas:
Natural science. Leonardo was one of the most attentive observers of his time. No wonder he has predicted many physical and biological laws. It wouldn't be impossible for him to adapt the knowledge into numerous puzzles and riddles in his main hideout.
In this escape room Da Vinci code may come to play, but don't try to use the solutions from the famous movie. To get the code, you'll have to solve mechanical puzzles and get old machines to work.
Fine art. One of the common associations people have with Da Vinci nowadays is his most famous painting, the Mona Lisa. But it isn't the only good painting produced by the master. See if you can find your way in the world of art and use the natural sense of symmetry to escape the room!
Da Vinci's office escape room is perfect for weekends, but it is also useful in team building. All the tasks are designed to train teamwork: it is impossible to progress solo, the players need to communicate if they want to achieve anything in the game. If you are planning a teambuilding session, please tell us in advance. We can provide conditions for expert observing; also, if you need to have video material on hands after finishing the quest, we'll be happy to give the recordings for group discussions.
Are you ready to find the secrets of Leonardo Da Vinci? Or maybe there's another historical figure you'd like to investigate? Our comment section is open to all opinions, as always!