Can You Visit Escape Rooms With All of Your Friends Invited?
Most players prefer to visit escape rooms in teams consisting of 3-5 people. These numbers are not random: when you're in a small group, it's a lot easier to manage your overall escape plans, and everyone gets to participate. You don't feel like you're doing too much on your own, so your brains never turn off because of weariness. But you don't ever feel like the others leave you behind, also: there's just so much stuff to interact with that everyone has to give their best to get out in time.
Of course, this tendency influences how the escape rooms for several people are designed. Most real-life escape quests are created with only 3-5 people in mind, so even if the studio allows more prominent groups to participate, space can become a bit more crowded. This might become a problem if you want to bring a large escape team along, so we advise to pick quests that are created with your team type in mind.
How to find an escape quest for a big company
If you genuinely enjoyed a specific escape game, there's no reason to change your plans just because your new team includes eight people instead of four. But if you're heading somewhere new, considering checking the limits and preferences of the room would be a good idea. Here's what you can do: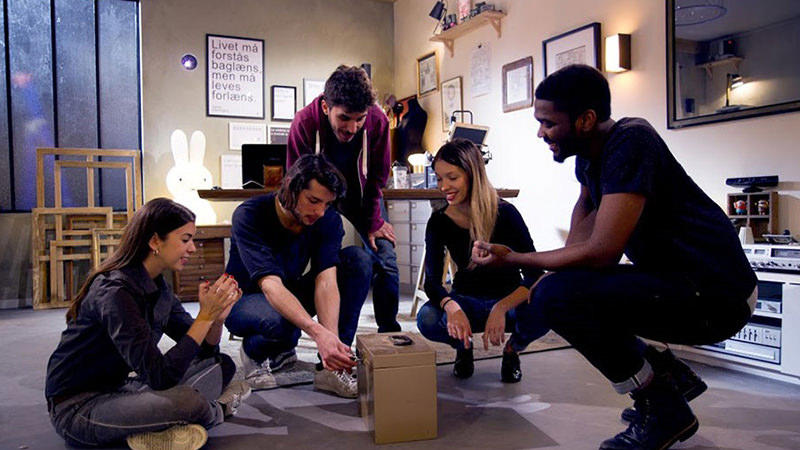 Ask the staff about it. Seriously, you can call the reception if you have any questions at all on the quest you're about to become a participant of. Shall it still be fun if you come with all of your crew, or should you separate and book different escape rooms? Is the challenge appropriate for kids? What is the best escape challenge to play after an intense study week? Do not hesitate to ask, and you'll get the best advice right away!
Check information markers. It's all in the description text. Sometimes the websites have individual sections that show you the min and max numbers of people you're allowed to take along. But even so, do not ignore those useful text descriptions: along with necessary information on the story and setting, they often feature essential tips, such as whether the quest is scary, is it good for playing with a large team, and so on.
Search for the right genre. Think zombie apocalypses, or a bunker escape, or a bank heist. You need a more significant area for your bigger crew; and if the story depends on things happening in a tiny closet, you won't get much out of jump scares because the place will be too crowded even to care.
If you want to bring a large group of friends to an escape room, visit our locations in Seattle, Shoreline or Redmond. We're always trying something new that would appeal to bigger teams, so make sure to check us out frequently so you could stay input.