Bank Heist Escape Room
Many escape rooms center on getting away from a specific danger. Sometimes you even have to run away from a dangerous criminal. But in Quest Factor Bank Heist adventure, you'll have to deal with nothing of this sort. Instead… you'll have to become hazardous criminals yourselves! Think you can handle the tension?
Escape the Bank and Take Cash with You
People around the world don't know the real identity of your group, and still, you're well-known in every country, both by commoners and the wealthiest businessmen out there. You are infamous, all thanks to your amazing abilities in performing lucrative crimes. Today you've got an activity planned that'll put all of the criminals of the past to shame. Your team is going to steal from the well-guarded, the most secure bank on the planet, and nothing's going to stop you from reaching the goal.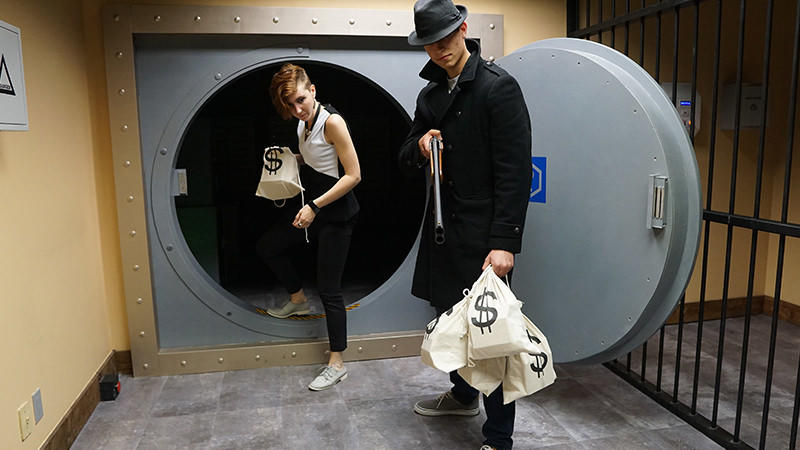 Of course, there will be several obstacles on your way:
Locked doors. You didn't assume the bank is just holding its gates open for every burglar to enter.
Complicated passwords. These combinations cannot be randomly tapped in, but as it's an escape room bank heist, clues might be hidden around somewhere. Just keep on searching!
Security cameras. Yes, the security system didn't happen to have a day off today. But you have all the necessary equipment to make them look elsewhere – or maybe even forget about the vault once and for all!
Traps and distractions. This is the most secure bank in the world, after all. The security team has thought of everything, so in case anyone breaks the official defenses, there are plenty of puzzles and secrets to keep the intruders busy. Will you stand up to the challenge?
If you want to escape the room, Bank Heist clues might prove themselves useful. It would be great to get them in advance and come fully prepared, but that's against the rules. The only thing we can promise is that you will be granted the right to ask for a hint once you're locked in the quest room. You don't have to find an assistant: state loudly and clearly that you need help, and we'll be happy to come to aid without spoiling the actual content.
Quest Factor Bank Heist game is great for family events, weekends with friends and corporative training. If you need to bring the team of 9 people or larger, please call to our lobby first. While our escape rooms are created with up to 8 players in mind, we can always look for the best solution together.