Group Escape Room in Seattle
There are not so many escape quests created exclusively for couples, but they appear more frequently as more people understand that private escape rooms are perfect for getting to know your partner better.
So if you are in search of a group escape room, it is better to double-check, or you risk renting a quest that is not created for a big company in mind! At the very best, you'll be allowed to enter with all of your friends, and the place will feel crowded, and some of you will always be out of things to do. But the possible outcome will be that the manager will have to say they don't allow so many people in this particular quest location, and you have to book an escape room for groups or choose who's getting inside.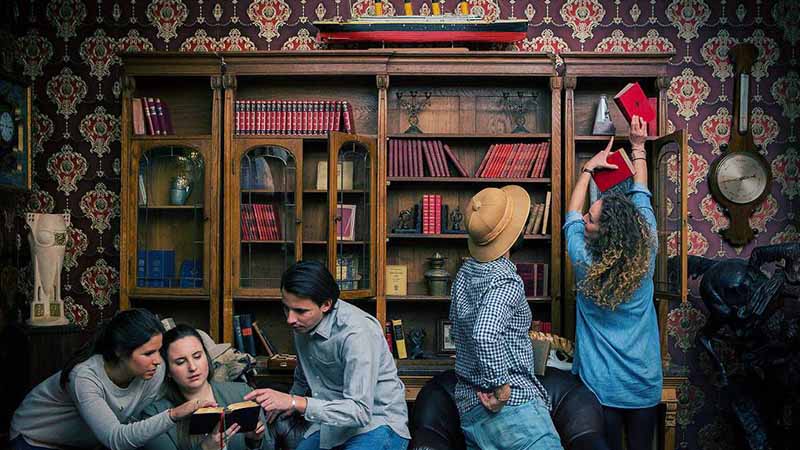 How to Check If the Escape Room Is for Big Groups
If you are not sure whether your escape group will be allowed to enter because of its size, please check the information on the website of the room you are planning to attend. There are many group activities in Seattle, and for every location or event, there is a specific capacity limit. It is always stated on the website to avoid unwanted incidents. With escape rooms, there are mostly four options:
Rooms for couples. They are designed to only host two people at once. They are tiny, so there are good reasons behind the limitations!
Escape quests for up to 4 people. They provide intense experience, but their size makes it difficult for big groups to move around. Also, the low number of people means that there are not so many parallel quest chains to solve. The puzzle number will be enough for 3-4 people to stay busy, but that's about it.
Escape rooms for up to 6 people. Still great for couples, even if a bit hard, and perfect for medium-sized groups. Can consist of up to 2 locations, and sometimes also have an additional micro-location for you to study.
Up to 8 players and more. Great escape rooms, not recommended to couples because it will be hard for two people to process all the puzzle chains in the place. If you are looking for fun group activities in Seattle then this is your best choice; big quests consist of multiple locations so there'll be lots of secrets to discover!
Don't forget to search for Seattle Groupons for escape rooms, as well as other special offers and discounts. While the price for renting an escape room is mostly set for booking the whole location, there are still places that count the cost based on the number of people in your team. That's when using a coupon is the best strategy for getting a good discount.