Feel the Jungle Beat with Tropic Escape Quests
When jungle escape rooms were first created, they were marketed mostly as Mowgly escape quest rooms that are suitable for kids and teenagers. Of course, there are still many children-focused jungle escape challenges out there, but thankfully, the theme evolved rapidly over the years. Now you can find practically any jungle quest type for the mature audience, and of course, escape room challenges are not an exception.
There is something special about the jungle that continues to captivate our interest even as we grow older. What wonders do they hide, and what dangers can they possibly cover behind tall grass and exotic trees? If you are ready to try and escape the jungle, the only thing left to do is picking out your perfect adventure. Here you can find out about jungle escape challenges and original elements unique to real life jungle quests.
What Are Jungle Escape Rooms All About
One of the most important things you need to remember about jungle escape rooms is that you've got to take along people who like this theme. Puzzles in jungle-themed rooms may be a bit hard to locate because of the massive flora around (even if it's fake), and you're going to hear recorded animal sounds for forty to sixty minutes straight. For those who get irritated easily with as much as the first five minutes of the Disney classic Jungle Book, this may be a bit too extreme.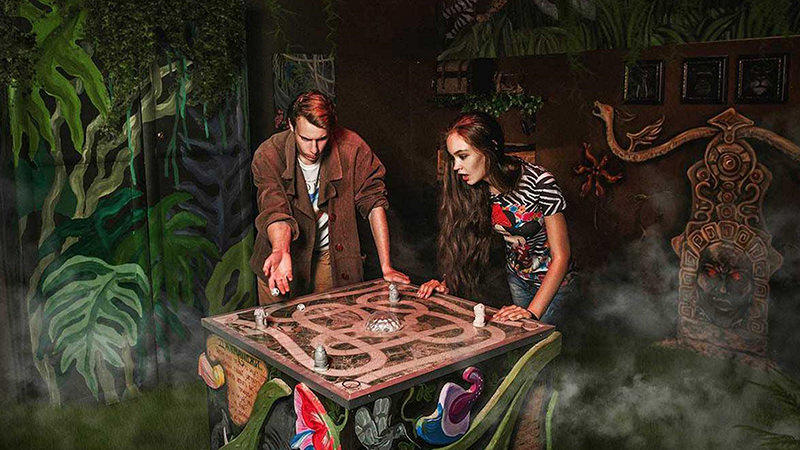 If you checked your team and made sure everyone's up to the challenge, then it's time to pick your adventure:
Pure jungle story. Every year, people get lost in the jungle for real. There's no need for an extra storyline or any specific background. You tried to explore the wilderness, and now you're stuck in a single location. That's it. May sound a bit simplistic, but the absence of plot is compensated by sturdy puzzles and the feeling of being lost in a vast tropical forest (while staying in a small room).
Aztec treasure. Everybody knows there are more sanctums and hidden chambers somewhere in the jungle. You were looking for treasure, and now you're finally getting close to it… but you've got to deal with tricky jungle paths first.
Abduction story. Jungles are perfect for bidding farewell to unwanted people. You did something inconvenient for some vile person, and now you're left in the jungle, with no signs of civilization around. Get out in time – or a tiger will come to hunt you!
If you are ready for quality escape adventures, make sure to visit our escape room locations in Seattle. Contact the staff to learn about seasonal events and discount programs!