Panic Room Escape is What You Should Choose for a Fun Weekend
Escape rooms aren't easy to crack, and with a panic attack, it may be even more difficult. Try to conquer your fears and master the panic room! Learn more about panic escape rooms and real-life horror quests.
Fear is one of the humanity's best friends. We've learned not just to overcome our fears (some of us may have to do it daily), but to play with it. Through horror books and movies, scary videogames and spooky tales people experience fear as a part of entertainment. It's an emotional rollercoaster that makes stories and days memorable; a universal spice that can be used for the most dishes.
Escape rooms and real life quests aren't exceptions. Horror escape rooms stay the most popular genre throughout the years. There's no wonder so many people prefer the panic room to a regular locked space with many puzzles to solve. While any room type makes the players feel the pressure because of the timer, only panic escape rooms really provide some kind of threat to be afraid of.
I Visit a Panic Escape Room for the First Time: What to Expect?
The first thing you should consider when visiting the panic room is that it may be not suitable for minors. Regularly, the quest team has to warn the players about age restrictions. But some of the laws work differently in some states, so the employee may let a child enter with the group if the child's parents or other older relatives are playing.
Check out the age markers if you're going to play a panic escape game with the whole family. That's what that annoying "parental advisory" label stands for!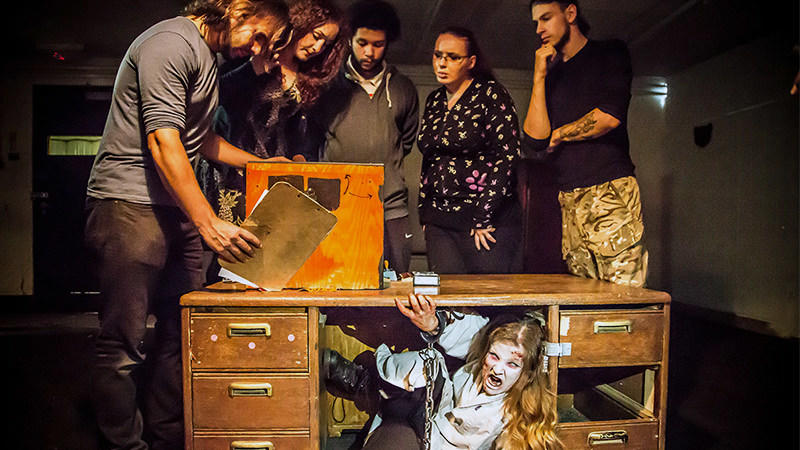 Then, you should choose the theme. In horror escape rooms, themes are more important, as your main obstacle will be not time, but fear. Choose a theme you're not even entirely thrilled by, and you'll find it extremely difficult to take anything that happens in the room seriously.
Here are some of the most popular themes for panic escape rooms:
Maniacs and serial killers. The team gets lures into a psychopath's trap and has to get away before the killer returns.
Japanese horror movies. The Ring is the most famous of them, but not the only one. The scary part of Japanese horror movies is that they always show you something you've never seen before (except from "The Ring", obviously).
Ghosts and old mansions. Expect a beautiful story about the main ghost, and bunch of stylish (yet very scary) special effects.
But these are only the biggest cherries on the ice cream. Check out our website to find more scary panic escape rooms to visit on a weekend!