Escape the Pirate Ship
To become a great adventurer, one needs always to take risks that a simple man would never dare to think of. Being an adventurer doesn't always mean being a menace to everyone around you. But of course, sometimes you may dissatisfy people with your brave actions. Especially if those people are pirates who happened to conquer your ship and now hold your entire crew as hostages… You will do what it takes to restore freedom and get your belonging back, right? And if for that means you'll need to take pirate loot, then so be it!
Quest Factor Escape Pirate Ship game is dedicated to all the brave adventurers out there. Even if the daily life doesn't have much in terms of extreme events, we know that you're out there – and you're ready to come when the spirit of adventure calls. We carefully recreated the atmosphere of a pirate ship so that you'd feel like you just returned from the sailing. The pirates are only staying in port for an hour, so it would be wise to use this time to make your way out!
How to Escape the Pirates in Just 60 Minutes
Running away from the band of trained criminals are not going to be easy. They've got years of mischief behind their backs, and you have only an hour to learn to act as a team and find all the clues that are necessary for breaking away.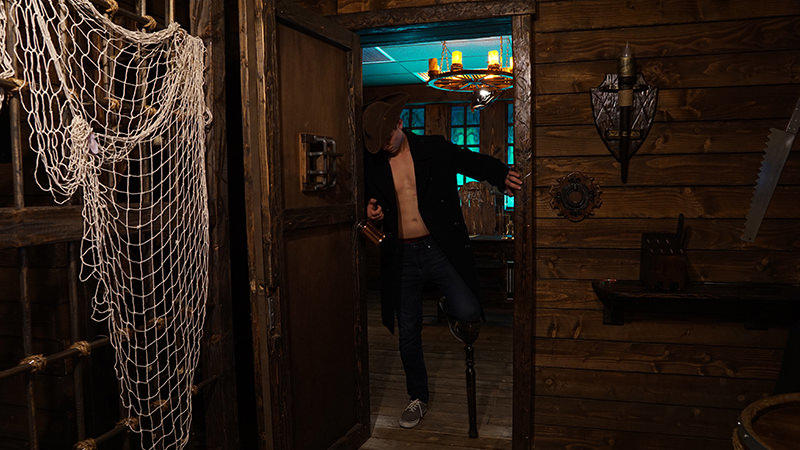 Here are some pirate escape room tips for the easy start:
Take it easy; do not panic. Many of Quest Factor guests choose Pirates escape room as their first escape adventure ever. That is not surprising, as the setting has both realistic and fairy-tale feeling to it. But if it is your first escape room, you may feel trapped the moment the door is locked behind your back. Just remember that, while the feeling is valid, you are not stuck for real. You can leave anytime you want. But, of course, this way you won't get to the treasure.
Look for clues and don't get distracted. Sixty minutes may seem like plenty of time, but you'll need a buffer in case the team gets stuck at some point. So if you see that the other players are doing fine, don't just wait for them to call for your help. Start searching for keys now!
Do not be afraid to admit you don't know what to do. The staff is actively monitoring the whole quest. The staff will gladly provide you one or two hints if we see that you have a real problem.
Have you been to Pirate Escape room in Seattle? Please let us know how you liked the quest in the comment section.