Top 5 Breakout Escape Games
Breakout games are not just escape rooms in which you need to solve puzzles. Here your nerves are tested for strength, stress resistance, teamwork as every minute counts. As in regular escape games, you will have 60 minutes to complete the tasks, but believe the adrenaline in breakthrough rooms is much more.
The rooms are divided into different categories: breakout live escape, puzzles, etc. But they all make you sweat. Most of these games are concentrated in Seattle, Washington, but in our review there will be rooms from other cities and states of America.
5 The Best Breakout Rooms
Breakout – Island escape
You and your friends quietly rested on a desert island, drank cocktails, played puzzles, when suddenly an incredible explosion rang out! The whole sky was covered with smoke. You cannot believe your eyes, but the volcano that slept for 1000 years has woken up and now you need to leave the island as soon as possible.
You will have only 60 minutes to find a way out of the breakout room; otherwise, the volcano will swallow you along with the island. To get out quickly you need to work in a team. The escape room is suitable for all ages.
Number of participants: 2-8 players.

Time to escape: 60 min.
Ninja Escape – Enter the Machine
Before the powerful Cthulhu was expelled to R'lih, he left a car on Earth that one day would open the gates between the two worlds. On this day, Cthulhu with his army will be able to take over our world. So ancient legends said, but once, at the bottom of the sea, scientists discovered strange vibrations that were created by an unknown machine in science!
You and your ninja spy team will have to turn off this ancient car until it opens the gate for a terrible monster. In this breakout room, you will find a huge number of puzzles and action. Prepare your nerves in advance.
Number of participants: 2-8 players.

Time to escape: 60 min.
Hourglass Escapes – Evil Dead 2™
You, as true lovers of breakout games in the genre of horror and non-standard puzzles, will save the world from the evil dead.
You and your team are paranormal research professionals. The mysterious Naobi hut materialized within the walls of the archaeological society, from which terrible screams are issue that terrify all archaeologists.
In this breakout room, each participant will be given the personality of researcher G. R. O. O. V. Y., a suit with all the necessary ammunition, and a list of suitable phrases that will need to be used during the passage of the game.
Number of participants: 2-6 players.

Time to escape: 70 min.
The brilliant scientist professor Manifesto was rejected and ridiculed by the entire scientific community in the world! He wanted to create a reactor that was supposed to rid the planet of polluting energy sources, but insults and ridicule forced him to take desperate measures. Now he wants to destroy the world.
You need to pass this breakout game in Seattle to save the planet from the terrible plan of a mad scientist. The professor set the bomb timer for 60 minutes. Hurry, the fate of the world is in your hands.
Number of participants: 2-6 people.

Time to escape: 60 min.
Conundroom – Stop the train
Once again stopping the criminals you left your horse at the station and went with your friends on an easy and fun train ride. Not having time to enjoy the rest, when suddenly you heard shots and found that the train was traveling at full speed without a driver! Now you and your team need to stop the train and save all passengers.
This breakout game will make you sweat like a real engine. Puzzles, an interesting story and an unforgettable experience await you.
Number of participants: 3-8 people.

Time to escape: 60 min.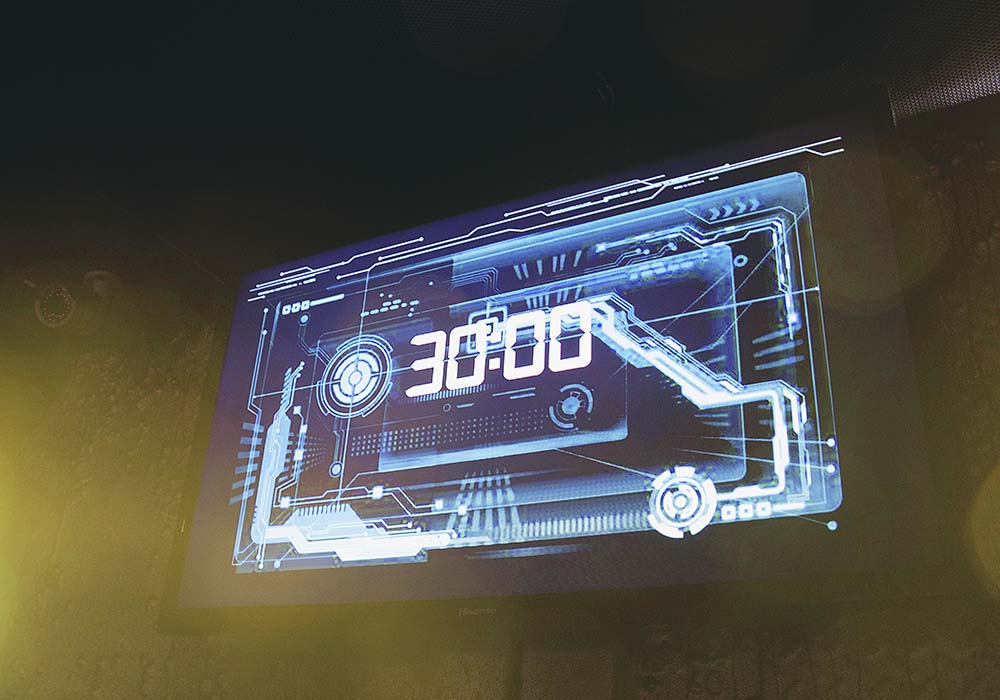 In this review, we tried to collect the best breakout games so that you could have fun and interesting time with friends or colleagues. We hope this article has been helpful to you. Most importantly, Quest Factor escape rooms are always open and waiting for new guests to Seattle.