Want More Challenge? Go to a Trap Escape Room
If you're ready for a big challenge, try visiting trap escape rooms at least once. These are great for the surprise factor, as it's almost impossible to predict what kind of trap waits for you up ahead. Usually, there are no more than one or two trap puzzle chains in an escape room. But sometimes you just get informed that there will be traps, but there are so many of them that it's entirely up to your luck and skill on how many of them you encounter on a single playthrough. Of course, it is not necessary to pick a specific trap-themed adventure to get this kind of experience. Technically speaking, the place where you get locked up at the beginning of the challenge is a trap room on its own. Still, knowing that your actions can have significant consequences can be fun, and it's a nice change of pace for experienced players who might get a bit bored with continuing escape adventures.
What Traps Can You Possibly Encounter in Escape Rooms
Most family escape rooms are aimed precisely on kids, so make sure to ask the staff about age recommendation. If you have a group of children, it might be for the best to look for an escape room for kids. Adults can enjoy an hour of shopping, relaxing in a cafeteria or visiting a more mature escape room.
They say that it's better to come prepared, so if you're not afraid of spoilers, we strongly recommend to take a quick look at our top trap list. Of course, there won't be exact information about the actual triggers, because they're unique for all the trap escape rooms out there.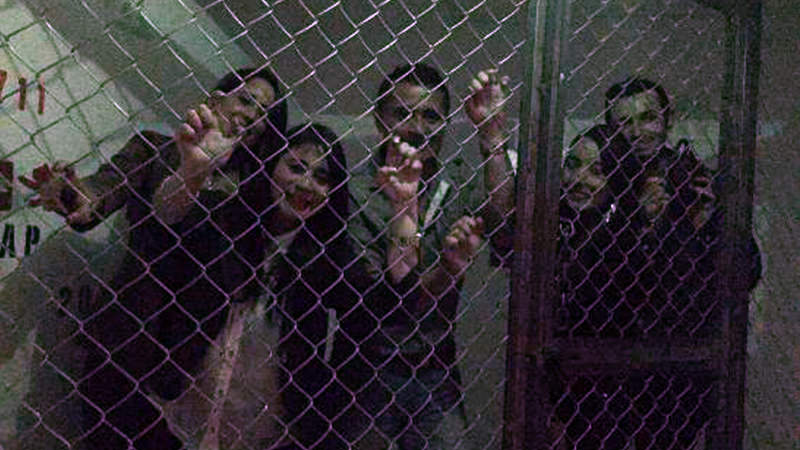 So, if the host warns you about future traps, that's what this could mean:
Story-related escape room traps. These are the easiest ones, as they are unavoidable. There's a point in the plot where the lights go off, and when they turn on, you find yourselves locked in jail; you touch a lever on the wall, and it flips, successfully locking you in a small chamber; etc. You cannot make anything to prevent getting locked. Relax, breathe out and focus on the puzzle-solving. The way outside must be nearby.
Gameplay-related escape traps. While these have a lot in common with the previous situation, there is a vast difference, as the trap is not just a plot device. Instead, it introduces a new method of puzzle-solving. The group is forcefully divided into two or three small parts, and the units have to communicate without seeing each other to progress. It's tough is the group is not coordinated, but if everybody's ready for teamwork, you'll be out in no time.
Punishment traps. They lock the players who aren't conscious about their progress. If you mess around too much, act too slow or try a lot of different passwords before actually solving the connected puzzle, the room may force a trap on you. Mind that it's not game over: the trap slows the guilty player down, but others can progress further. Also, there's always a way to escape from this situational prison.
Visit our trap escape rooms and thematic escape quests in Seattle!